Downloading Firmware
There are two ways to download firmware roms for EasyBox Mtk application. The first is using built-in downloader of the EasyBox Mtk application. It supports redownloading the firmware files if some error occured in the download process and other useful features. The second is using this web site. In both variants the
download ticket
will be created.
Downloading firmware with the EasyBox Mtk application
To download firmware using EasyBox Mtk application go to "Download" tab.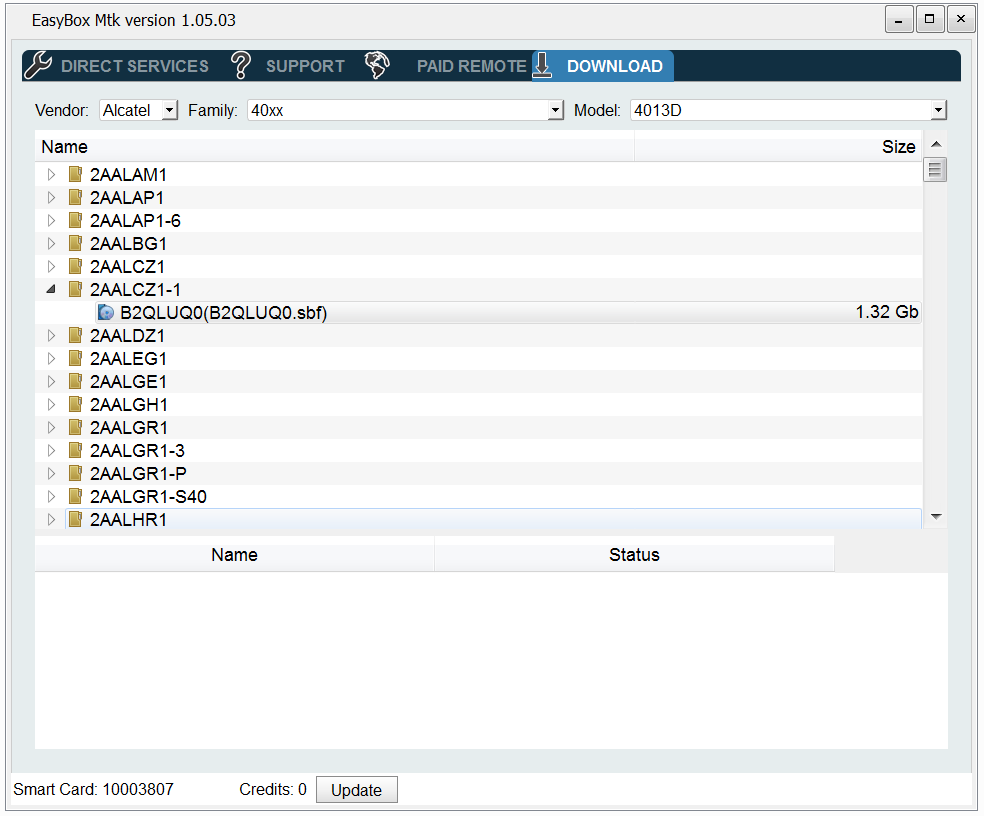 First select model family in the upper side of the window, than select model. The list of all Provider Id(CU ref) will be shown. Open the "Provider Id" folder and double click on the firmware file you want to download. The process of downloading will be shown in bar at the bottom of the window.
The Provider Id list in application cannot be filtered. Sometimes it is hard to find needed provider Id in case there are hundreds of different Ids. It is recommended to use this site to download firmware roms.
Downloading firmware on this site
You should enter as logined user to be able to download firmware. Read
here
how to login.
Go to
Download Area/Phone firmware
, select the model you need. You will be redirected to the Model-Provider Id page. Open the Provider Id you need to select firmware. Click on the panel and press 'Get Download Link'. You will be redirected to
download ticket
page where you can download firmware file.
You can use a panel at the left side of the window to filter models and CU.
Download Tickets
Every time you want to download file with the application or with this site, you automatically create a
download ticket
. The download ticket is a permission for a user to download a certain file for a certain amount of time. You can request 20 tickets a day. Every ticket is valid for 2 days. You can download the firmware file as much times as you want during this time period. If a downloading was broken or cancelled you can redownload the file with the ticket. To do this, go to
User/AvailableDownloads
and select the ticket you need.